Annual Fuel Utilization Efficiency or AFUE Rating
Gas and oil heaters and gas and oil boilers are rated in AFUE or Annual Fuel Utilization Efficiency. AFUE calculates the percentage of heat delivered to your house and compares it to the amount of fuel that you supply to the furnace. For example a furnace that has a 80% AFUE rating converts 80% of the fuel that you supply to heat and the other 20% is not converted to heat and effectively lost out the flue or chimney. AFUE is limited in that it only refers to the unit's fuel usage and not its electrical consumption.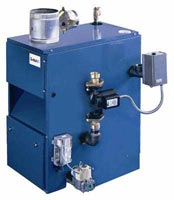 The government's minimum AFUE rating for gas furnaces and boilers is 78%. Many gas furnaces and boilers manufactured before this rating went into effect in 1992 had AFUE ratings as low as 60%. Furnaces with AFUE ratings of 78% to 80% are the most common but furnaces with much higher ratings are available. If you have a furnace with an AFUE of about 60%, you could save significantly on your heating bills by replacing it with a higher efficiency furnace.

Many times the cost is paid back through savings on lower utility bills. AFUE ratings of 78% to 80% are usually considered adequate for warmer climates. If you live in a cold area or where fuel is very expensive consider a high efficiency heater with a rating of 90% or higher. Consult a reputable air conditioning and heating contractor to help you decide which system is right for your area.
10 REASONS TO CHOOSE RA-JAC