Carbon Monoxide Poisoning
Safe Levels pf CO - The safety level for carbon monoxide as specified by the Health and Safety Executive is 50 parts per million (ppm). Between 50 - 200 ppm a healthy adult who is exposed will experience a slight headache within 2-3 hours. Between 200 - 400 ppm a frontal headache occurs within 1-2 hours, becoming widespread in 3 hours. Between 400 - 800 ppm dizziness, nausea, and convulsions occur within 45 minutes, and unconsciousness occurs in 2 hours. People suffering from heart or respiratory problems, infants, small or unborn children, expectant mothers and pets can be affected by CO poisoning more quickly than others and may be the first to show the symptoms of CO poisoning.

Experiencing Symptoms - If you experience symptoms that could be from carbon monoxide poisoning get all occupants of the house and get them to fresh air IMMEDIATELY. If someone in the house is suffering from CO exposure move the affected person to fresh air and give them oxygen if available. Contact medical help immediately. If the person is not breathing give them artificial respiration as taught in CPR Training until medical help arrives. If everyone is conscious and aware but the symptoms are still moderate to severe go to an emergency room and tell the attending physician that you suspect CO poisoning so it can be diagnosed by a CohB blood test and be give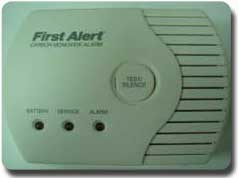 oxygen. If symptoms are mild open all the doors and windows if possible, turn off combustion appliances. Regardless of the level of the symptoms stay out of the house until it can be checked for CO.
More Information - Call the EPA's IAQ INFO Clearinghouse at 1-800-438-4318 or the Consumer Product Safety Commission exiting EPA at 1-800-638-2772 for more information on CO safety and other combustion gases.
10 REASONS TO CHOOSE RA-JAC