Air Conditioning Compressors
An air conditioning compressor is a mechanical motor which pumps and compresses the refrigerant gas into the high pressure side of the cooling cycle and causes the refrigerant to circulate through the system. It is the most expensive and important component in a system and without it there is no cooling. It is usually found inside the condensing unit although on some large commercial applications is may be an isolated component.
Most residential air conditioning equipment has either a reciprocating or scroll compressors. The lower SEER units come with a reciprocating compressor while higher SEER units come with scroll compressors.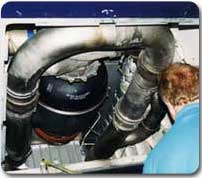 Reciprocating compressors are the standard of the air conditioning industry and have been in use for many years. They operate much like an automobile engine and have one or more pistons which are driven from a crankshaft that is turned by a motor. These pistons compress the Refrigerant and create a pressure imbalance which causes the Refrigerant to flow through the system.
Scroll compressors are more efficient than reciprocating compressors. Although they have been around since the early part of the 20th century, scroll compressors are finally commonly available for residential units. These compressors require only two parts, a fixed scroll and an orbiting scroll which makes it less likely to fail and causes it to operate much quieter that other compressors.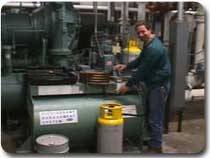 They are also smaller and up to 10 percent more efficient than their counterpart the reciprocating compressor. Scroll compressors can also handle debris and contaminants without being damaged and are not vulnerable to liquid slugging which can severely damage reciprocating compressors.
Both the reciprocating and scroll compressors are hermetically sealed. This means they are completely sealed and their internal parts cannot be serviced.
10 REASONS TO CHOOSE RA-JAC