Heating with Electric or Resistance Heaters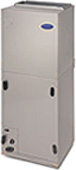 Electric heating or resistance heating converts electricity directly to heat. Electric heat is often more expensive than heat produced by combustion appliances like natural gas, propane, and oil. Electric resistance heat can be provided by baseboard heaters, space heaters, radiant heaters, furnaces, wall heaters, or thermal storage systems.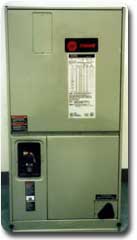 Electric heaters are usually part of a fan coil which is part of an central air conditioner. They circulate heat by blowing air across the heating element which is supplied to the furnace through return air ducts. Blowers in electric furnaces move air over one to five resistance coils or elements which are usually rated at five kilowatts. The heating elements activate one at a time to avoid overloading the electrical system. Overheating is prevented by a safety switch called a limit controller or limit switch. This limit controller may shut the furnace off if the blower fails or if something is blocking the air flow. The heated air is
then sent back through the home through supply ducts.
Radiant systems like imbedded heating cables, ceiling mounted radiant panels, electric radiators, etc. radiate heat outward by warming the objects in the room. Radiant heat can make it difficult to control air temperature and may result in large fluctuations in the room air temperature.
10 REASONS TO CHOOSE RA-JAC