Technicians Servicing Heating Air Conditioning Equipment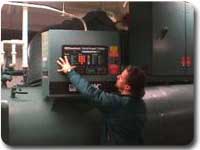 Heating air conditioning and refrigeration installers and technicians install maintain and repair systems which control the temperature, humidity, air flow, and air quality in residential, commercial, industrial, and other buildings. Because heating, ventilation, air conditioning, and refrigeration systems are sometimes called HVACR systems, workers may be called HVACR technicians and installers. HVACR workers make it possible to store and transport medicine, food, perishable items, etc. and keep people cool and comfortable year around.
Technicians design, maintain, diagnose, and correct problems throughout a HVACR system in both residential and commercial buildings using special tools and test equipment. Technicians are typically higher paid than installers and often do repairs exclusively, although they are trained to install as well. Technicians typically work for large or small HVACR contracting companies but can also work for a wholesaler or manufacturer.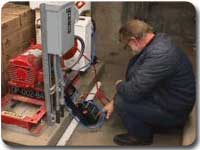 Technicians often do routine maintenance as well as repair work. When HVACR mechanics service equipment, often they must recover and recycle refrigerants like chlorofluorocarbon or CFCs and hydrochlorofluorocarbon HCFCs used in air conditioning and refrigeration systems and recycle it using special equipment. CFC's are considered to be 100% ozone depleting and are very dangerous to the environment. In most residential air conditioners and many refrigeration systems it is R-22 or Refrigerant which is a hydrochlorofluorocarbon or HCFC. HCFCs are considered to be 5% ozone depleting and are also a danger to the earths vital ozone layer.
Refrigerant is an Environmental Protection Agency controlled substance which is deemed hazardous. Some CFCs must be managed as hazardous waste, even if recycled and special precautions are required for their transport.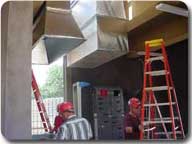 According to environmental laws any refrigerant that is purchased, installed, or removed must be extracted and and filtered by a certified technician using a certified refrigerant recovery or recycling machine. To become certified technicians must successfully pass a written examination for the type of equipment on which they wish to work. There are three different types of certification, Type I for small appliances, Type II for high pressure refrigerants, and Type III for low pressure refrigerants. Exams are given by organizations which have been approved by the Environmental Protection Agency.
HVAC technicians and installers work in many different working environments like homes, businesses, hospitals, factories, industrial plants, and many other places. They may work on specific jobs for months a a time or may may be dispatched to jobs as they come in by cell phone, radio, or pager.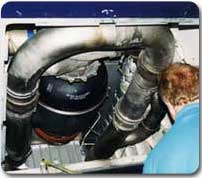 Technicians work in uncomfortable and sometimes dangerous conditions including extreme weather conditions like attics and unconditioned spaces, cramped positions, extreme heights, and can face hazards like electrical shocks, burns from torches and welding apparatus, injuries from lifting heavy equipment, asphyxiation and other dangers from dangerous chemicals and hazardous materials, cuts and abrasions from power tools and other sharp implements among other hazards. During summer and winter seasons they often work overtime and possibly irregular hours like nights and weekends to cover calls as they are needed.
Because of the ever escalating need for training to keep up with the increasingly sophisticated HVACR systems technicians must often go to training classes and schools to learn how to service new equipment. Math skills, mechanical skills, an understanding of electronics, applied physics, chemistry, plumbing, electrical, blueprint and schematic reading, computer skills, and skill at communication and dealing with people are all vital skills for this trade. Since heavy lifting and severe physical exertion are also a part of the job being in good physical condition is also important.
Job growth for HVAC technicians and installers is expected to be greater than the average job growth through the year 2012.
10 REASONS TO CHOOSE RA-JAC