Hydronic and Steam Systems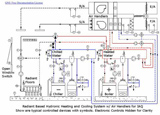 Hydronic Systems - Hydronic systems are HVAC systems that use a pump to circulate a heated or cooled medium like treated water and then use a pump to circulate the water to the building through plastic pipes installed into the concrete slab or other spaces. The medium then conducts the warmth or cooling to the surface of the floor or other areas where it radiates energy outward heating or cooling the room. This sends the medium right to the areas where it is needed significantly increasing the systems efficiency. Hydronic systems are closed loop meaning the same medium is reused over and over.
Advantages - Hydronic air conditioning and heating systems offer a few advantages over a traditional forced air system. By using a liquid medium instead of air the efficiency of the system increases considerably requiring less energy than blowing heated or cooled air through ducts. Ducted systems can lose air and harbor dust, mold and other nasty little surprises that reduce air quality. Blowers, return air cabinets, plenums and ducts can take up valuable attic space and can be damaged easily. Another advantage of a hydronic system is that they are very quiet, are extremely durable, and it is easy to set up a zoned system so you can heat just the areas that need it. They work well with a variety of fuel sources, from high-efficiency heat pumps, gas, electricity, oil, and even solar systems making them very versatile. Also these systems can easily be changed from one source to another just by changing the boiler type.
Hydronic Heating Systems - Hydronic heating systems are commonly used in commercial and residential radiant floor heating systems. They generally consist of a boiler, hot water pumps, piping for distribution of the medium, and a fan coil or radiator. One popular example, radiant floor heating systems use a boiler to heat the medium, in this case water. Hydronic heating systems are also used with antifreeze solutions to melt ice and snow in walkways, parking lots and streets in colder climates.
Hydronic Cooling Systems - Hydronic cooling systems consist of a water chiller, circulating pumps, distribution piping, and a fan coil unit. They usually require a cooling tower or some other device to reject heat to the outdoors.
Interchangeable Heating and Cooling Systems - Hydronic systems circulate hot water for heating and chilled water for cooling. The same distribution piping system can sometimes be used for heating water and chilled water if simultaneous heating and cooling is not required allowing for an interchangeable system.
Steam Systems - Steam heating systems are similar to hydronic heating systems, except steam is used as the heating medium instead of water. Steam heating systems are very similar to a typical hydronic heating system except no circulating pumps are required allowing for even higher efficiency.
New Advances - In recent years, there has been a growing interest in hydronic heating, especially in radiant floors which have been around for some time. The lack of a truly interchangeable cooling method however has limited hydronic heating so little has been done to add new systems into the marketplace. Recent developments in hydronic cooling systems may eventually remove this limitation raising the potential for a revolutionary change in the future of heating and cooling.
10 REASONS TO CHOOSE RA-JAC