Blower and Condenser Fan Motors for Air Conditioning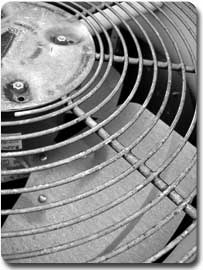 Blower motors are the motors that blow air across the evaporator coil of an air conditioning system and deliver cooling to the interior of a home or building. Condenser motors are the motors in an condensing unit that pull air across the condenser coil and cool the superheated gas drawing the heat from the interior of a house. These motors vary in frame size, horsepower, rpm, voltage, number of speeds, manufacturer, and shaft size.
Size - Most fan motors on residential equipment are 5-5/8 inches diameter also known as 48 Frame. Occasionally a larger 6-1/2 inches diameter size is used also known as a 56 Frame.
Horsepower - The horsepower of most residential motors range from about 1/8 to 1/2 horsepower but occasionally a larger size is used.
RPM - The RPM or revolutions per minute of most residential motors is 1075 but a slower speed of 825 are occasionally used. On rare occasions a faster speed of 1550 can also be used.
Voltage - Most residential condenser motors are 230v and blower motors are usually either 110v or 230v.
Number of Speeds - Most condenser motors are one speed motors but on more efficient units they can have as many as 4 speeds. Blower motors typically have 3 to 5 speeds although usually only two are used, one for heating and one for cooling.
Belt Drive vs Direct Drive - Some blower motors use a fan belt to turn the blower or squirrel cage while others mount directly to the fan and are called direct drive motors.
Manufacturers - The most common motor manufacturers are A.O Smith, Magnetek, Emerson, General Electric, and Fasco although there are several others.
OEM - Oem stands for original equipment manufacturer. Some motors must be replaced with oem motors while others can be replaced with a generic replacement motor.
10 REASONS TO CHOOSE RA-JAC