Odors Eliminating Filters - Gas Phase Adsorption
Gas phase adsorption is the process of using an adsorption media to adsorb gases and odors in an air stream. Carbon is the most common and is used primarily for odor absorption. Adsorptive medias do not filter out any particles they are only designed to remove or reduce the levels of gases and odors and as such must be used in conjunction with some other form of air filtration system or air filter to keep the carbon or other media from collecting dust.
Gas phase adsorption is often used in commercial and industrial applications where a specific type of gas needs to be removed or reduced. Adsorption works better when the depth of the particular absorber is thicker than average. The thicker the filter the longer the adsorptive media is in contact with the gas.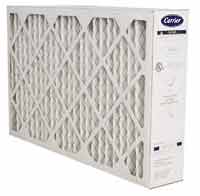 Carbon and other adsorptive units have a relatively high resistance so only the thinner 1"and 2" carbon filters are typically used in air handlers. Higher capacity systems are usually independent systems designed to pull the air through the higher static units with a separate fan or blower.
Carbon and other adsorptive medias have a limited life and can only adsorb 33% to 50% of their weight before they must be changed.
10 REASONS TO CHOOSE RA-JAC