Professional Air Conditioning and Heating Maintenance Overview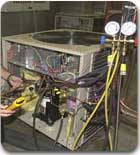 We all know that our automobile needs a tune up to run at its best. Most people can do the smaller jobs themselves like adding fluids, inflating tires, cleaning the windshield, changing wiper blades, etc. To keep your car working to its fullest potential occasionally you need a tune up. If you choose to skip regular maintenance you will find yourself paying for a major repair down the line. The same is true for your air conditioner or furnace. If you skip your regular maintenance, you will cost yourself money and be inconvenienced in the long run. For maximum performance and long life have a professional perform needed maintenance on your air conditioner in the spring and your furnace or heat pump in the fall.
Without needed maintenance air conditioners loose 5% of their efficiency for each year of use. Considering the cost of electricity an the undue stress on a unit this can cost the homeowner many times the cost of the equipment over the life of the unit. Fortunately most users can recover lost efficiency through service and maintenance from a trained professional. With regular maintenance an air conditioning unit will keep up to 96 percent of it's original efficiency. Also a unit working at its full capacity will keep your home more comfortable by controlling humidity and maximizing the cooling available.
Heater maintenance is not only a matter of efficient and trouble free operation but is also a matter of safety. Improperly maintained heaters can be a fire and carbon monoxide hazard and can be a severe health risk, which can even cause death. A properly serviced and checked heater can give you safe and trouble free operation for the lifetime of your heating system. However holes in your systems heat exchanger or firebox can leak carbon monoxide or allow flames that are normally contained inside to reach your living space causing a very dangerous condition. Malfunctioning safety controls can cause a cracked heat exchanger or other dangerous conditions to occur. Don't take a chance with your family's safety get your furnace maintained once a year by a properly trained and licensed service professional.
Many air conditioning businesses offer special prices during the spring and fall. Some offer bi-annual service contacts which assure the homeowner that they will receive service each spring and fall at a reduced rate.
All heating and air conditioning equipment needs to be serviced at least once a year. With the proper maintenance from a trained and licensed professional your air conditioner and heater will recover most of the efficiency lost from improper maintenance. Maintained units are more likely to continue to operate without any major problems. They also have a much longer life span than an improperly maintained air conditioning and heating unit. They cost the user much less money to operate and will keep you more comfortable than their counterparts.

Company Profile of Ra-Jac Services Air Conditioning and Heating TX - Our goal - Since 1966 we have been providing professional and affordable residential, commercial and industrial air conditioning and heating service and installation to our customers in and around the Galveston County area. Our goal is exemplary service built on honesty, education, certification, and high ethical standards. As a result we are quickly growing into one of the leading heating and air condition service companies in the Southern Texas area.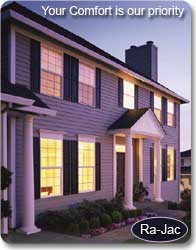 Our Texas Service Areas -- If you are in the Algoa, Arcadia, Bacliff, Bayou Vista, Clear Lake City, Clear Lake Shores, Dickinson, El Lago, Friendswood, Galveston, Hitchcock, Kemah, La Marque, League City, Nasa Area, Nassau Bay, San Leon, Santa Fe, Seabrook, Taylor Lake Village, Texas City, Tiki Island, or the Webster Texas areas and want a professional to service, install, or maintain your air conditioning, heating or air cleaning and filtration system contact us at (409) 945-4171. We provide top notch service to keep your home and office air conditioner and heater working efficiently and effectively. Your comfort is our top priority.
10 REASONS TO CHOOSE RA-JAC