Recycling Refrigerants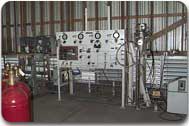 The cooling medium of a air conditioning or refrigeration system is called its refrigerant. CFC's or chlorofluorocarbons are used as refrigerants in some commercial air conditioning and refrigeration systems. CFC's are considered to be 100% ozone depleting and are very dangerous to the environment. In most residential air conditioners and many refrigeration systems it is R-22 or Refrigerant which is a hydrochlorofluorocarbon or HCFC. HCFCs are considered to be 5% ozone depleting and are also a danger to the earths vital ozone layer.
Refrigerant is an Environmental Protection Agency controlled substance which is deemed hazardous. Some CFCs must be managed as hazardous waste, even if recycled and special precautions are required for their transport.
According to environmental laws any refrigerant that is purchased, installed, or removed must be extracted and and filtered by a certified technician using a certified refrigerant recovery or recycling machine. To become certified technicians must successfully pass a written examination for the type of equipment on which they wish to work. There are three different types of certification, Type I for small appliances, Type II for high pressure refrigerants, and Type III for low pressure refrigerants. Exams are given by organizations which have been approved by the Environmental Protection Agency. Refrigerant must be removed from all appliances before they are disposed of including freezers, refrigerators, and home and automobile air conditioners.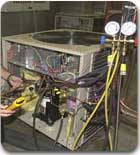 As of July 1, 1992 it is illegal to release Refrigerant or other refrigerants into the atmosphere because they can cause severe damage to the ozone layer. When CFCs are removed they should be recycled to clean out any contaminants and return it to a usable condition. Refrigerants should never be mixed together. Some CFCs must be managed as hazardous waste, even if recycled and special precautions are required for their transport.
Air conditioners do not consume Refrigerant and you should never need to add or change the Refrigerant in your air conditioning system unless there is a Refrigerant leak. An air conditioning technician will not have to recover and recycle refrigerant during every call. This process will usually happen when system components need to be replaced or when there is a Refrigerant leak. The laws on CFC's do not allow an air conditioning contractor to add Refrigerant to a leaky commercial system if the leak is within 30% of the units capacity. They are required to fix the leak in the system. Violation of this law may cause contractors to loose their license.
CFC's are highly regulated and black market importation of refrigerants has led to criminal prosecutions. Chlorofluorocarbons have become a huge problem second only to narcotics at some U.S. borders.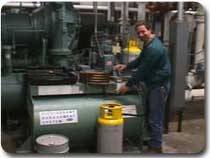 Anyone who buys or installs Refrigerant must be a certified technician and have a valid EPA certification card. The seller must keep a paper trail which indicates the name of the buyer, the date of sale, and the quantity purchased. A seller's failure to abide by the regulations can result in criminal penalties. The certification for personnel who service auto air conditioners is separate from certification for HVAC equipment.
The federal Clean Air Act calls for a total phase-out of CFC's by the year 2000 and a phase-out of HCFC's by the year 2030. Replacement refrigerants are quickly becoming available but some are still very expensive and problematic.
Thanks to the clean air act CFCs are no longer building up in the atmosphere as quickly as they once were. CFC R-11 and CFC R-113 levels are decreasing significantly and CFC R-12 levels are increasing but at a slower rate. If all international agreements continue to be followed the ozone layer will recover around 2050. This will help reduce skin cancer, cataracts, problems with human immune systems, and protection from excessive UV exposure. The EPA expects 295 million fewer cases of this form of skin cancer over the next century due to the phase-out.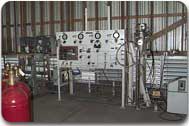 The Clean Air Act also lead to he development of energy efficient air conditioning and refrigeration equipment which will save users money, save the earths resources and reduce greenhouse gas emissions and acid rain significantly.
10 REASONS TO CHOOSE RA-JAC