Space Heaters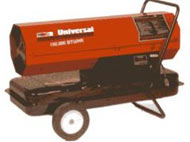 Space heaters are small sometimes portable heaters powered by oil, electricity, kerosene, and natural gas. Most space heaters are powered by a standard 120V three wire power cord. These heaters sometimes have fans to circulate the warm air and built in thermostats to allow the user to adjust them. They all must have adequate clearance for safety.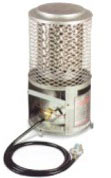 Portable electric space heaters can be a serious safety hazard unless they have the proper working safety controls and are used according to all manufacturer recommendations on a properly grounded outlet. Many electric space heaters are not safe and can lead to fires. When buying a portable electric space heater, select one with a grille to prevent anyone or anything from touching the heating elements, a tip over switch that shuts the heater of if it falls, heating elements encased in metal or ceramic.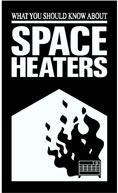 Remember to check other appliances that share the space heater's electric circuit to prevent overloading. Inspect the cord for frayed or cracked areas and never use extension cords. Also keep combustible objects, like furniture, drapes, blankets, toys, and other items away from the heating elements. The distance varies by manufacturer and size but is usually 6 feet although always follow the minimum distance required by the manufacturer. Consult your product information for details. Make sure the area where its used has a properly functioning smoke detector.
10 REASONS TO CHOOSE RA-JAC