Centrifugal Chillers
In large buildings and multi story buildings a traditional air conditioner is not very effective because copper tubing must carry not only Refrigerant but oil or lubricant back to the compressor. The long distances between outdoor units are too long to allow for proper return of the oil and running ductwork for such long distances is similarly difficult so most contractors turn to chilled water.
A chilled-water system is simply a large air conditioner but instead of cooling air it actually cools water. Then the chilled water which is around 40 and 45 F is pumped by a large water pump through the building and supplied to multiple air handlers or one large air handler wherever it is needed.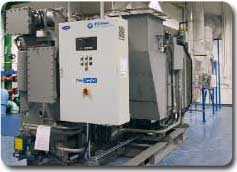 A chilled water system or chiller as they are commonly called uses a heat exchanger with water on one side and cold Refrigerant on the other which chills the water which then travels through insulated pipes and into the conditioned space. The cold water goes through a evaporator coil which acts much like a traditional cooling coil. The supply air crosses the coil and then the cooled air which is propelled by a large fan goes through the duct and into the space where the cooling is needed. The cool air absorbs the heat and then makes its way into the return air and back to the air handler where the cycle starts over again until the desired temperature is reached. The water which is warmed slightly by the air blowing across it leaves the evaporator coil and goes back into the chiller's evaporator or water cooler where it is cooled back down and begins its cycle again as well.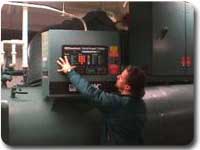 Chillers represent a quarter of the commercial air conditioning market and can be very efficient means of cooling a space if they are properly designed and installed. Regular maintenance is also needed to keep equipment clean, safe and functioning efficiently. A proper inspection and maintenance routine should include Checking linkages, controls, valves, dampers, time clocks, filters, drive efficiency, belts, motors, and energy management systems. All coils and heat exchangers should be cleaned and properly maintained. Refrigerant levels should be checked. All electrical components should be checked and replaced as needed. Piping should be inspected for leakage and the water should be tested for contaminants which can do severe damage to your system if left unchecked. Filters should be replaced as needed. Chillers should never be serviced by inexperienced technicians as they can be very difficult to maintain and service and can cause major damage not limited to major water damage to a building.
Information on choosing a service technician to maintain or repair your system.
10 REASONS TO CHOOSE RA-JAC