Air Conditioning & Heating Heat Pumps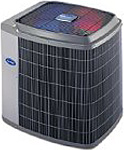 Heat pumps are a lot like air conditioners but instead of just cooling they give out both heating and cooling. Heat pumps and air conditioners both work on the same basic principles but heat pumps have a few extra controls like a reversing valve which effectively reverses the flow taking the heat from outside and transferring it inside for use in the colder winter months.
A heat pump can extract heat even out of very cold air and then transfer that heat into your home with the help of a fan coil, which circulates the warm air through the ducts and into your house. For exceptionally cold weather fan coils contain back up electric or resistance heat.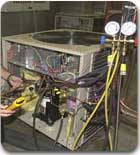 Heat pumps outside coils can sometimes form ice which the unit will sense and defrost when necessary. Once the ice is melted the heat pump goes back into heating mode.
To keep the indoor coils clean the air filter remove dust and other contaminants from the air. Dirty coils cause your system to use more energy and can shorten the life of your unit. Once again an annual heating inspection will help keep your system is running efficiently and cut down on expensive repairs.
One of the most important things to consider when purchasing a unit is the efficiency or HSPF. Heat pumps efficiency is rated in HSPF or Heating Seasonal Performance Factor. As a general matter the higher the rating the more heating and cooling you get per watt of electricity so the higher the number the better.

The minimum heating efficiency for heat pumps is 6.8 HSPF. Most heat pumps which were built before 1992 have HSPF ratings below 5.0. A HSPF of 7.5 or higher is considered high-efficiency. High efficiency heat pumps and air conditioners installation costs are higher initially but lower utility bills significantly. Typically a high efficiency air conditioner or heat pump pays for itself in saving in a few years.
10 REASONS TO CHOOSE RA-JAC