Professional Gas Oil and Electric Heater Maintenance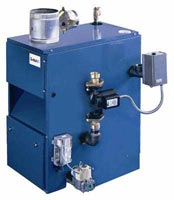 Why is Professional Heater Maintenance Important? Heater maintenance is not only a matter of efficient and trouble free operation but is also a matter of safety. Improperly maintained heaters can be a fire and carbon monoxide hazard and can be a severe health risk which can even cause death. A properly services and checked heater can give you safe and trouble free operation for the lifetime of your heating system. However holes in your systems heat exchanger or fire box can leak carbon monoxide or allow flames which are normally contained inside to reach your living space causing a very dangerous condition. Malfunctioning safety controls can cause a cracked heat exchanger or other dangerous conditions to occur. Don't take a chance with your family's safety get your furnace maintained once a year by a properly trained and licensed service professional.
The winter can be a very busy time for professional heating and air conditioning contractors. Having professional inspections and maintenance done on your unit before the busy winter months will help keep your unit running and prevent delays in its repair and also keep you safe from harmful gases and lower the danger of a fire.
A seasonal check-up should include the following items for gas or heating unit:
1) A Carbon Monoxide Test - Carbon monoxide is an odorless tasteless gas that can be lethal in small doses. Professional inspection and maintenance of your heater should include a thorough inspection of the heat exchanger which contains the flames and carbon monoxide gasses produced by the unit. The inspection should not stop there however. It should include an in depth analysis of the Carbon Monoxide or CO content of the combustion chamber and an adjustment or repair if necessary. It should also include an analysis of the draft of the flue pipe which carries the gasses out of the house. Analysis MUST be done with a Carbon Monoxide detector and other qualified equipment by a trained technician to insure safe operation.
2) Air Filters - Inspect the air filters.
3) Fan Limit Switch - Test the fan limit switch.
4) Electrical Readings - Check the voltage and the amp draw.
5) Lubrication - Lubricate the fan motors.
6) Heat Rise - Check the temperature rise across the heat exchanger.
7) Electrical Wiring - Inspect the electrical wiring and connections.
8) Firing Rate - Check the firing rate.
9) Burners and Pilot - Test the burners and pilot assemblies.
10) Gas Leaks - Inspect for gas or oil leaks.
11) Replace Nozzle - Change the nozzle (for oil only).
12) Oil Filters - Change the filter (for oil only).
13) Gas Pressure - Test the gas manifold pressure (gas only).
14) Heat Exchanger - Inspect the heat exchanger.
15) Thermocouple - Test the pilot thermocouple.
16) Burner Adjustment - Make burner adjustments.
17) Air Filter - Examine the air filter.
18) Fan Motor - Test the fan motor and oil if needed.
19) Fan Limit Switch - Test the fan limit switch or switches.
20) Electronic Ignition - Test the electronic ignition.
21) Manifold Gas Pressure - Check the manifold gas pressure.
22) Draft Diverter - Examine the draft diverter.
23) Thermostat - Clean and adjust the thermostat.
24) Heat Anticipator - Set the heat anticipator.
25) Fan Belts - Check and adjust the fan belts.
26) Temperature Exchange - Measure the temperature rise from return air to vents.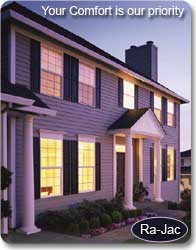 Company Profile of Ra-Jac Services Air Conditioning and Heating TX - Our goal - Since 1966 we have been providing professional and affordable residential, commercial and industrial air conditioning and heating service and installation to our customers in and around the Galveston County area. Our goal is exemplary service built on honesty, education, certification, and high ethical standards. As a result we are quickly growing into one of the leading heating and air condition service companies in the Southern Texas area.
Our Texas Service Areas -- If you are in the Algoa, Arcadia, Bacliff, Bayou Vista, Clear Lake City, Clear Lake Shores, Dickinson, El Lago, Friendswood, Galveston, Hitchcock, Kemah, La Marque, League City, Nasa Area, Nassau Bay, San Leon, Santa Fe, Seabrook, Taylor Lake Village, Texas City, Tiki Island, or the Webster Texas areas and want a professional to service, install, or maintain your air conditioning, heating or air cleaning and filtration system contact us at (409) 945-4171. We provide top notch service to keep your home and office air conditioner and heater working efficiently and effectively. Your comfort is our top priority.
10 REASONS TO CHOOSE RA-JAC