Carbon Monoxide or CO Information
Carbon Monoxide is a colorless odorless and tasteless gas or liquid which is a byproduct of burning kerosene, gas, oil, charcoal, wood, tobacco, gasoline and other petroleum products and comes from incomplete oxidation of the carbon during the combustion process. Even at low levels it can cause fatigue, impaired brain function, upset stomach, dizziness, muscle pains, impaired vision, chest pain and shortness of breath. The short term symptoms are similar to the flu, food poisoning, or other illnesses but may clear up slightly after leaving the contaminated area. Long term exposure even to low levels can cause permanent neurological damage. At higher concentrations it an cause seizures and can kill a person within minutes. This is due to the formation of carboxyhemoglobin in the blood, which inhibits oxygen intake and puts the functions of the heart, brain and other vital functions of the body at risk.
If appliances that burn these fuels are properly used and maintained the tiny amounts of CO produced are not dangerous but when they are used or maintained improperly dangerous levels of CO can produce dire results. Hundreds of people each year are killed by accidental CO poisoning. Most of the time the symptoms in these cases were evident before hand but not properly recognized as CO poisoning.
In homes and businesses with properly functioning equipment, average levels vary from 0.5 to 15 ppm or parts per million. Higher levels are not unusual in areas with a concentration of tobacco smoke. Common causes of unsafe levels of carbon monoxide are leaking chimneys, low levels of combustion air due to improper supply, malfunctioning or back drafting furnaces, kerosene or gas fueled space heaters, gas water heaters, improperly installed or malfunctioning wood stoves or fireplaces, improperly maintained gas stoves, misuse of generators, automobile exhaust infiltration from attached garages, and other causes.

Here are some tips to reduce your exposure to unsafe levels of carbon monoxide. First always follow the manufacturers instructions and all applicable city state and national codes when using fuel burning appliances. Keep gas appliances like furnaces, water heaters, etc. properly checked, maintained, and adjusted by a reputable professional service contractor. Worn out or poorly maintained combustion devices like boilers, furnaces, and hot water heaters can be significant sources of CO. Open all flues when your fireplace is in use, CO poisoning can result from flues that are blocked, improperly sized, disconnected, or have developed leaks. Do not use a oven to heat your home even for a short time. Never idle the car in your garage even if the garage doors are open as cars produce large amounts of carbon monoxide and unsafe levels can occur very quickly.
Exhaust from nearby roads or parking areas can also be a source. Install a exhaust fan which is vented to the outside over you gas stove and remember to use it whenever you use the appliance. If you must use a space heater buy a vented one and make sure it is properly installed. Make sure that the doors on your wood stoves fit tightly and are securely closed while in use. Be cautious when using tools that burn these fuels as well. The EPA warns that people using gasoline powered tools like high pressure washers, mowers, weed trimmers, snow blowers, chain saws, floor buffers, pumps, compressors, welders, and portable generators in buildings or semi enclosed spaces have been poisoned by carbon monoxide so follow manufacturers recommendations for these items. CO poisoning from camping equipment such as portable lanterns, camping heaters, and stoves being used inside tents, campers and vehicles is also common.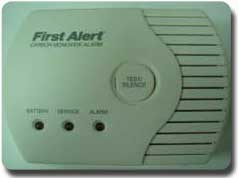 The best way to keep your home safe is to have a carbon monoxide detector or alarm. The United States CPSC or Consumer Product Safety Commission recommends that every home should have a carbon monoxide alarm or detector. You can buy and install your own carbon monoxide detectors from our online parts counter.
The CPSC also strongly recommends that consumers to have a professional inspection of all fuel burning appliances like furnaces, water heaters, stoves, fireplaces, clothes dryers, and space heaters, etc. A professional contractor will have the equipment to diagnose your furnace and evaluate its safety with an electronic carbon monoxide analyzer.
Information on Carbon Monoxide Poisoning
More Information - Call the EPA's IAQ INFO Clearinghouse at 1-800-438-4318 or the Consumer Product Safety Commission exiting EPA at 1-800-638-2772 for more information on CO safety and other combustion gases.
Buy High Quality Carbon Monoxide Detectors from our Online Store
10 REASONS TO CHOOSE RA-JAC