Air Conditioning & Heating Humidifiers

Our bodies register heat as a combination of temperature and humidity. If you add humidity to dry, heated air in the winter you can set your thermostat to a lower temperature and still be just as comfortable while saving money on your natural gas bill. Humidifiers also prevent dry skin, help ease some repertory problems and sore throats, reduce winter colds, keep woodwork and other items from deteriorating, and reduce static electricity.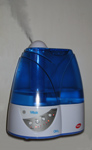 Humidifiers work when air from your heater passes through them an moisture is added. The most common method is a water soaked pad called an evaporator pad which allows the air to absorb moisture from it. Humidifiers usually have a humidistat or thermidistat which allows you to control the percentage of moisture added to the air. There are four different types of humidifiers which are listed below.
Spray nozzle humidifiers are the cheapest type consisting only of a small box which is mounted on your ductwork and incorporates a spray nozzle which is inside your ductwork. There is no added ductwork to install but they don't put out as much humidity as the larger units.

Drum units have a foam pad which is mounted on a drum. It turns in a pan filled with water and kept full by means of a mechanical float. The foam pad and pan can develop algae or mineral deposits and need frequent cleaning.
Evaporative pad type humidifiers have a pad with a stream of water running down it which evaporates as its humidity is added to the house. The pad should be changed once a year.
Steam units are expensive and are typically installed in large commercial buildings. These units are sometimes favored by people with expensive wooden furniture or other valuable items.
10 REASONS TO CHOOSE RA-JAC