Thermidistat Controls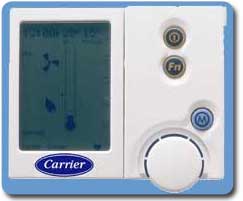 Typical thermostats maintain the proper desired temperatures in homes and businesses by signaling to your HVAC equipment when appropriate temperature settings are reached but they do nothing to control humidity. Typically this was done by a humidistat which was separate and usually installed in an inaccessible area like inside a return air duct. Carrier's ThermidistatTM Control not only helps your heating and cooling equipment maintain the proper temperature but also monitors and controls humidity controlling equipment inside your home allowing you to control the humidity set point of your system right from the thermostat.

Thermidistats offer seven day programmability, allowing you to automatically set a different temperature for different times of day. You only need to program your Thermidistat once and it remembers the setting and follows it day after day. You only need to reprogramming it if you want to change the program.
In the air conditioning cycle the Thermidistat Control monitors humidity levels both inside and outside your home, and works with your air conditioning and dehumidifying system to remove moisture which can cause mold and reduce your comfort level. In the heating cycle the Thermidistat Control can tell your humidifier to add moisture to dry heated air preventing cracked skin, wood damage, etc.

A Thermidistat control can also save energy with its setback feature. Since the program can be changed automatically several times a day you can set back the temperature to a more efficient level when you are at work, or when everybody is asleep and have it return to its previous level before you wake or arrive home saving valuable energy.
10 REASONS TO CHOOSE RA-JAC