Air Conditioning Thermostats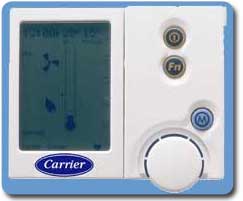 Thermostats maintain the proper desired temperatures in homes and businesses by signaling to your HVAC equipment when appropriate temperature settings are reached. There are several types of thermostats available and they can vary from the simple to the complex.
The simplest and least expensive type of thermostat is a mechanical thermostat. These are usually controlled by a mercury switch. A mercury switch is a glass vial with a small amount of mercury which is a liquid metal and three wires inside it. The switch is attached to a piece of metal made by laminating two different types of metal together which uncoils as the temperature changes slightly tipping the switch a tiny bit. When the vial tips the mercury enough to make contact between the wires it causes the unit to come on. When the temperature set point is reached it reverses the process and turns the unit off.
Thermostat's which contain mercury are a hazardous waste because each one contains around 3 grams of mercury which alone has the potential to poison a 60 acre lake for over a year causing the fish in the lake would fall under fish consumption advisory. The National Thermostat Recycling Program funded by Honeywell, GE and White Rogers offers recycling to HVAC contractors for the mercury from thermostats free of charge. Be sure your HVAC contractor recycles mercury thermostats to prevent hazardous conditions. If you have removed a mercury thermostat make sure you take it to a County Hazardous Waste Collection Site or ask if your HVAC contractor or wholesaler will recycle it.
Electronic thermostats work similar to the way manual thermostats do except a microprocessor inside compares a digital thermometer ambient temperature reading to the temperature set point and tell the unit when to shut on and off. Because the sensor is able to read temperature directly digital thermostats are accurate to one degree instead of 3 degrees which give a more consistent temperature and saves energy.
A digital thermostat can do a few things that our mechanical thermostat cannot. One of the most useful features of a digital thermostat is that it is programmable. This can save energy with a setback feature. Since the program can be changed automatically several times a day you can set back the temperature to a more efficient level when you are at work, or when everybody is asleep and have it return to its previous level before you wake or arrive home saving valuable energy.
You can also save energy if you turn down the heat or cooling by just 1 degree Fahrenheit for 24 hours a day, you can save about 3 percent of your costs. Turn it down 4 degrees F and save about 12 percent.
Location can also effect the efficiency and effectiveness of a thermostat. A thermostat should be about 5 feet off the ground and at least 24 inches away from any outside walls. It should not be exposed to any heat sources like sunlight, vents, appliances, or windows.
There are some devices that combine the functions of a thermostat with other equipment. On example is the Carrier Thermidistat (TM) which controls not only temperature but humidity. Typically this was done by thermostat and a separate humidistat which was usually installed in an inaccessible area like inside a return air duct. Carrier's ThermidistatTM Control not only helps your heating and cooling equipment maintain the proper temperature but also monitors and controls humidity controlling equipment inside your home allowing you to control the humidity set point of your system right from the thermostat. It is digital and programmable for maximum comfort and savings.
10 REASONS TO CHOOSE RA-JAC