Natural Gas for Heating
Natural gas is a safe, environmentally friendly, and inexpensive fuel available for use in appliances and equipment in your home, business and for industrial applications. The National Fire Protection Association or NFPA reports that gas heat is responsible for fewer home fires than electric or oil fueled systems. Homes with gas fired central heating units had 1.06 fires per 10,000 households, compared to 3.68 for liquid fueled systems, and 4.35 for electric or resistance systems.

If your local gas utility does not serve your area bottled propane can be used to operate the same equipment by having a trained technician make a few simple adjustments. Gas heat can offer a higher comfort level than electric heating because the heat is warm from the moment it comes on where electric heat tends to give a cold blast of air when it starts and stops. The average gas water heater is less than 2/3's the cost of electric water heating. Some trucks and buses using natural gas instead of gasoline or diesel because it is cheap and burns clean.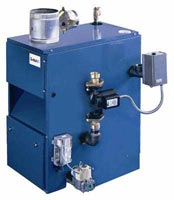 Gas and oil heaters and boilers are rated in AFUE or Annual Fuel Utilization Efficiency. AFUE calculates the percentage of heat delivered to your house and compares it to the amount of fuel that you supply to the furnace. For example a furnace that has a 80% AFUE rating converts 80% of the fuel that you supply to heat and the other 20% is not converted to heat and effectively lost out the flue or chimney. AFUE is limited in that it only refers to the unit's fuel usage and not its electrical consumption.
10 REASONS TO CHOOSE RA-JAC