Two Speed Central Air Conditioning
Two speed air conditioning units are very much like traditional air conditioners but they can run on low speed up to 80% of the time, which uses less electricity than a conventional unit. When temperatures rise Two speed units shift into high speed to maintain the set point of the thermostat. Two speed units run for longer cycles at low speed and translate into fewer on and off cycles resulting in smaller temperature swings for more stable even cooling. Two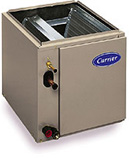 speed units are some of the most efficient units available.
Two speed units also have a low SRN or Sound Rating Numbers. SRN is a method of measuring and comparing sound levels of air conditioners. Sound is not relevant to the efficiency of a unit but it can affect your comfort level. If your unit has a low sound level, you will hardly notice it is operating while high levels may mean many sleepless nights and annoyed neighbors.

Two speed units typically have other high efficiency features designed to save you money like direct current or DC motors which are more efficient than a standard AC or alternating current motors. They often allow for humidity control as well allowing for greater comfort.
10 REASONS TO CHOOSE RA-JAC