Choosing a Replacement for your Central Heating System
Where to Start - Choosing a furnace can seem like a daunting task. There are many options and types of systems to choose from. A reputable contractor can help you with this but first a little research will help you to make an informed decision.
Information on Selecting a Heating Contractor
Choose High Efficiency - Most heaters are rated in AFUE or Annual Fuel Utilization Efficiency. AFUE measures the amount of heat actually delivered to your house compared to the amount of fuel that you must supply to the furnace. A furnace that has an 80% AFUE rating converts 80% of the fuel that you supply to heat and the other 20% is lost out the chimney. AFUE refers only to the unit's fuel efficiency and not its electrical usage. The US Department of Energy determined that all furnaces sold in the US must have a minimum AFUE of 78% starting on January 1, 1992. Mobile home furnaces are required to have a minimum AFUE of 75%. The average furnace has an AFUE rating of about 80% but high efficiency furnaces can get as high as 96%. For cold weather areas this can mean a significant savings during the cold winter months.
Consider the Location - When selecting a furnace the area where you live can be a major consideration. If you live in a colder regions a gas or oil furnace or boiler is usually the most likely choice. In warmer regions a gas furnace or heat pump may be more reasonable for you. If no gas or oil service is available you may need to go with an electric heating system like a heat pump or electric furnace. If gas is available but you don't have it in your particular home you might consider having a plumber install the appropriate gas line. Electrical costs may be so low in your area that an electric system is a better choice, so consult a reputable HVAC contractor for advice in this area. If your area has natural gas available then a furnace and boiler may be a good option for you due to lower fuel costs in most area.
The Heat Exchanger - The heat exchanger is the most expensive and important part of a gas furnace and is usually covered by a separate parts warrantee. The minimum warrantee for a unit is usually five years but many warrantees go up to ten or even twenty years.
Consider a Programmable Thermostat - If your house is empty for part of the day consider investing in a programmable thermostat. This will allow you to set your unit to a lower temperature while you are gone and then have it drop back to a comfortable level thirty minutes before you are due to arrive home. Some people also like to set a different temperature for when they are asleep then their waking hours. Most thermostats can be set for a particular day of the week so you can bypass your program or change it on days when you are home.
Don't Forget the Maintenance - Remember that once you choose a system to have it maintained by a reputable contractor. Almost half of all repairs are due to improper or neglected maintenance. If you choose to skip regular maintenance you will find yourself paying for a major repair down the line. If you skip your regular maintenance, you will cost yourself money and be inconvenienced in the long run. For maximum performance and long life have a professional perform needed maintenance on your air conditioner in the spring and your furnace or heat pump in the fall. Many air conditioning businesses offer special prices during the spring and fall. Some offer bi-annual service contacts which assure the homeowner that they will receive service each spring and fall at a reduced rate.
Professional Heater Maintenance
Get a Good Contractor - One of the most important things to consider when you purchase an air conditioner is choosing a knowledgeable and reputable contractor. When you get ready to make a decision about an air conditioner you will need the help of a contractor to make an informed decision. Also if your air conditioner or heater breaks down you need the services of licensed contractor who has the knowledge, proper tools and equipment, and experience to do the job right the first time and not leave you in worse shape that when you started.
Selecting a Heating Contractor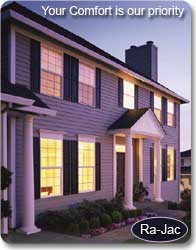 Company Profile of Ra-Jac Services Air Conditioning and Heating TX - Our goal - Since 1966 we have been providing professional and affordable residential, commercial and industrial air conditioning and heating service and installation to our customers in and around the Galveston County area. Our goal is exemplary service built on honesty, education, certification, and high ethical standards. As a result we are quickly growing into one of the leading heating and air condition service companies in the Southern Texas area.
Our Texas Service Areas -- If you are in the Algoa, Arcadia, Bacliff, Bayou Vista, Clear Lake City, Clear Lake Shores, Dickinson, El Lago, Friendswood, Galveston, Hitchcock, Kemah, La Marque, League City, Nasa Area, Nassau Bay, San Leon, Santa Fe, Seabrook, Taylor Lake Village, Texas City, Tiki Island, or the Webster Texas areas and want a professional to maintain your air conditioning, heating or air cleaning and filtration system contact us at (409) 945-4171. We provide top notch service to keep your home and office air conditioner and heater working efficiently and effectively. Your comfort is our top priority.
10 REASONS TO CHOOSE RA-JAC