HVAC Heating Ventilation Air Conditioning and Cooling

HVAC is an abbreviation for heating, ventilation and air conditioning. HVAC contractors and technicians specialize in the installation and maintenance of furnaces, electric heaters, boilers, heat pumps, central air conditioners, air filtration systems, ventilators, and humidifiers and in assisting customers in making decisions to improve and repair their HVAC systems.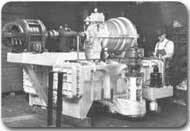 Sometimes it is abbreviated HVACR which adds refrigeration into the mix.
HVAC is important in the design of buildings and other structures. It regulates temperature and humidity, as well

as bringing in fresh air from an outdoor source. It is based on the principles of thermodynamics, fluid mechanics, and heat transfer.
HVACR - Refrigeration is sometimes added to the field's abbreviation as HVACR.
10 REASONS TO CHOOSE RA-JAC