Air Conditioning Condenser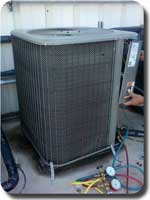 The outside or condensing unit in a residential system is commonly referred to an a condenser because it is the part of your system which condenses the refrigerant or Refrigerant. The condensing unit or condenser consists of three main components; a condensing coil, a compressor and a fan. The compressor in your outdoor unit compresses the refrigerant or Refrigerant into a high temperature, high pressure gas. This packs the molecules of the refrigerant closer together creating more energy and temperature per square inch.
As that superheated gas flows through the outdoor coil the fins act like a radiator and quickly begins to dissipate the heat. Air from the outdoor fan blows across these fins and it loses some of its heat. As it cools it condenses and transforms from a gas to a liquid which is usually just 10 degrees above the outdoor temperature.

A condensing coil should be cleaned by a professional and properly maintained to keep it running smoothly. Without proper cleaning the coil can become blocked by dirt and debris and will not allow the air to flow across the coil and cool the refrigerant. This will lead to loss in efficiency and can lead to equipment inefficiency, damage and even equipment failure. For more information on doing your own maintenance or what to expect from professional maintenance follow the hyperlinks in the text below.
Do it yourself air conditioning maintenance
Professional Air Conditioning and Heating Maintenance
10 REASONS TO CHOOSE RA-JAC