Cooling Towers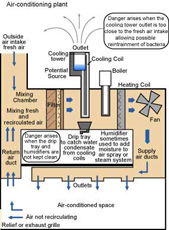 Cooling towers come in all shapes and sizes. Unlike most air conditioning systems where air is used to dissipate the heat from the outside condenser coil a cooling tower uses water to cool the system down. In a large system where higher efficiency is needed using a cooling tower can be an excellent choice especially in areas with low humidity. The cooling tower creates a stream of low temperature water which trickles through a thick sheet of open plastic mesh.
It then blows air through it at a right angle so that some of the water evaporates and evaporates some of the water cooling the water temperature. This goes into a heat exchanger and cools the hot coils of the air conditioner unit. Because some of the water is lost to evaporation, the cooling tower constantly adds water called make up water to the system to make up the difference.
A cooling tower is more costly then other systems but the energy savings can be significant over time. Many large buildings like hospitals, office buildings, and schools use one cooling towers for their air conditioning needs.

A cooling tower is used to remove heat from a chiller. Water-cooled chillers are usually more energy efficient than air-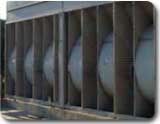 cooled chillers due to more efficient heat transfer.
A cooling tower should be cleaned by a professional and properly maintained to keep it running smoothly. For more information on professional maintenance follow the hyperlinks in the text below.
More information on how an air conditioning works click here.
10 REASONS TO CHOOSE RA-JAC