Ra-Jac Air - Texas' Leader in Air Conditioning, Heating, Refrigeration, Ventilation, and Air Cleaning Equipment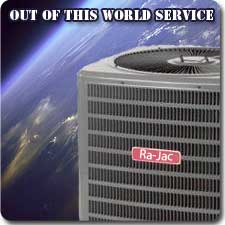 Installation - Ra-Jac offers quality installations on new equipment with high quality brands like Carrier, Lennox, Heil, Intertherm, Bryant, BDP, Goodman, Tempstar and others. We can design your system including proper load calculations, adherence to all local and state codes, designs that clean your air of pollutants, and systems that maximize energy efficiency to save you money. We have designs for all budgets and offer special financing on most systems. For free estimates in the Galveston County and NASA area call us now at 409-945-4171.
Repairs - We can repair your air conditioning, heating, ventilation, and air cleaning systems for less. We offer full service on Carrier, Payne, Byrant, Heil, Lennox, Trane, Whirlpool, Tempstar, Arco, Armstrong, Bard, Bohn, Coleman, Amana, American Standard, Day and Night, Fedders, Climatrol, Airtemp, Hunter, Emerson, Friedrich, Intertherm, Janitrol, Goodman, Ruud, Rheem, Westinghouse, York and all other brands.
Contact us for service in the Galveston County and Harris County at (409) 945-4171.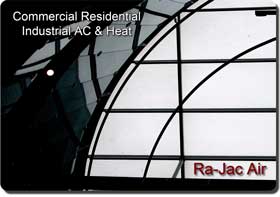 We offer solutions - We can offer solutions for difficult problems like air borne allergies, dust and dust mites, hot and cold spots, cutting high AC and heater energy costs, carbon monoxide leaks and detection, lost efficiency, duct leakage, custom duct work design, zoning systems, air filtration, air cleaners and purification systems, dehumidifiers and humidifiers, digital and programmable thermostats, service agreements, annual inspections, and many other problems. We offer special financing for new installation and accept cash, checks, and most major credit cards.
Why Choose Ra-Jac? - Ra-Jac air is experienced, honest, reasonably priced and there when you need us. We offer solutions and not more problems. You don't have to be an expert to find answers with us. Let us show you how easy it is to get a top quality cooling and heating system and save money in the process. We are proud to offer in depth designs that are customized to fit your needs. For more information call us at (409) 945-4171.
Residential - Commercial - Industrial - Repair Service and Installation- Service Contracts - Free Estimates on New Equipment - Equipment - Financing - News
Call us at (409) 945-4171 for service in the following Areas - If you are in the Algoa, Arcadia, Bacliff, Bayou Vista, Clear Lake City, Clear Lake Shores, Dickinson, El Lago, Friendswood, Galveston, Hitchcock, Kemah, La Marque, League City, Nasa Area, Nassau Bay, San Leon, Santa Fe, Seabrook, Taylor Lake Village, Texas City, Tiki Island, or the Webster Texas areas and want a professional to maintain your air conditioning, heating or air cleaning and filtration system contact us at (409) 945-4171. We provide 24-hour emergency service to keep your home and office air conditioner and heater working efficiently and effectively. Your comfort is our top priority.
Please contact us for service or if you have questions.
(409) 945 - 4171

10 REASONS TO CHOOSE RA-JAC