Ra-Jac Offers Quality Residential Air Conditioning and Heating Services to Southern Texas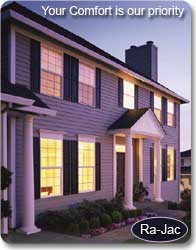 Residential Services - Ra-Jac Sales and Services specializes in a full range of services for residential heating and cooling systems, including air conditioners, electric and gas powered furnaces, and heat pumps. Ra-Jac Air can handle all your residential Air Conditioning, Heating, Ventilation and Air cleaning needs. Our trained technicians can get your system up and running quickly and since all our service technicians are highly trained and have at least 8 years experience, you can be sure that your unit is fixed right the first time.
Preventative Maintenance - We know that you rely on heating, ventilation, and air conditioning to keep your family comfortable, so Ra-Jac Sales and Services provides a comprehensive list of equipment and services that will allow you to keep your system running with fewer breakdowns and will help you spend less on repairs and energy costs and minimize down time. We can also provide preventative maintenance to your heating, cooling, ventilation and refrigeration units to help prevent unexpected and sometimes costly repairs. To learn more click here.
We Stock Most Parts For Fast Repairs - Our technicians carry a complete inventory of residential air conditioning and heating parts and diagnostic equipment on their vans, enabling them to make repairs quickly and efficiently allowing us to help minimize equipment down time. Our technicians are highly trained and experienced. We believe in providing our customers with the best service possible including fair and competitive pricing, top quality durable energy saving equipment, expertly trained honest and courteous employees, 24-hour emergency service, high standards of excellence, superior customer satisfaction, fast response time, fully stocked trucks, and repairs that are done right the first time.
Services - We Offer a wide variety of services including those listed below.
Installation - Ra-Jac offers quality installations on new equipment with high quality brands like Carrier, Lennox, Heil, Bryant, BDP, Intertherm, Tempstar and others. We can design your system including proper load calculations, adherence to all local and state codes, designs that clean your air of pollutants, and systems that maximize energy efficiency to save you money. We have designs for all budgets and offer special financing on most systems.
Free Estimates - We provide free estimates on new installations of residential, commercial, and industrial systems. Also, on repairs, once our service techs locate the problem they can give you a flat rate price on a repair before they begin the repair, eliminating the guesswork and allowing you to relax knowing the repair will be done right and for a set price. For free estimates in the Galveston County and NASA area call us now at 409-945-4171. For more information check out our free estimates section.
Contact us for service in the Galveston County and Bay Area at
(409) 945-4171
Repairs - We can repair your air conditioning, heating, ventilation, and air cleaning systems for less. We offer full service on Carrier, Payne, Byrant, Heil, Lennox, Trane, Whirlpool, Tempstar, Arco, Armstrong, Bard, Bohn, Coleman, Amana, American Standard, Day & Night, Fedders, Climatrol, Airtemp, Hunter, Emerson, Friedrich, Intertherm, Janitrol, Goodman, Ruud, Rheem, Westinghouse, York and all other brands.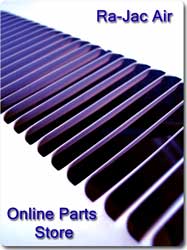 Convenient Online Shopping - Are you a do it yourselfer? Allow Ra-Jac to supply you with high quality parts and equipment for your home improvement or commercial repair needs. You can even shop from home and choose from a variety of products available at the Online Shopping section of our web site.
Maintenance and Service Contracts - There's no better way to keep your air conditioning, heating sand air cleaning system operating smoothly and at top efficiency than regular preventative maintenance. For more information click here.
We offer solutions - We can offer solutions for difficult problems like air borne allergies, dust and dust mites, hot and cold spots, cutting high AC and heater energy costs, carbon monoxide leaks and detection, lost efficiency, duct leakage, custom duct work design, zoning or zone air systems, air filtration, air cleaners and purification systems, dehumidifiers and humidifiers, digital and programmable thermostats, service agreements, annual inspections, and many other problems. We offer special financing for new installation and accept cash, checks, and most major credit cards.
Guarantee of Excellence - We pride ourselves on expertly trained honest and courteous employees, high standards of excellence, and superior customer satisfaction. We are licensed, bonded and fully insured for your protection and peace of mind. Our repairs are backed by a minimum one year warrantee. Extended warrantees of up to ten years are available on certain items. Contact us or ask your service tech for more information.
Call us for all your HVACR needs - Ra-Jac Air provides a wide range of services available to the Southern Texas Area. We service Galveston County and parts of Harris as well as the entire Nasa region. We are licensed and bonded HVACR contractors with over 40 years of experience in the industry. Call us today at (409) 945-4171 for immediate service on Air Conditioning, Heating, Refrigeration, Ventilation, L.P. Boilers, Air Cleaners, Commercial and Industrial, Maintenance Programs as well as other services related to the Air conditioning, heating, ventilation, and air cleaning Industry. To find out more about Ra-Jac check out our company profile or 5 reasons to choose Ra-Jac.
Residential - Commercial - Industrial - Repair Service and Installation- Service Contracts - Free Estimates on New Equipment - Equipment - Financing - News
Call us at (409) 945-4171 for service in the following Areas - If you are in the Algoa, Arcadia, Bacliff, Bayou Vista, Clear Lake City, Clear Lake Shores, Dickinson, El Lago, Friendswood, Galveston, Hitchcock, Kemah, La Marque, League City, Nasa Area, Nassau Bay, San Leon, Santa Fe, Seabrook, Taylor Lake Village, Texas City, Tiki Island, or the Webster Texas areas and want a professional to maintain your air conditioning, heating or air cleaning and filtration system contact us at (409) 945-4171. We provide 24-hour emergency service to keep your home and office air conditioner and heater working efficiently and effectively. Your comfort is our top priority.
Please contact us for service or if you have questions.
(409) 945 - 4171
10 REASONS TO CHOOSE RA-JAC